Serve to Bless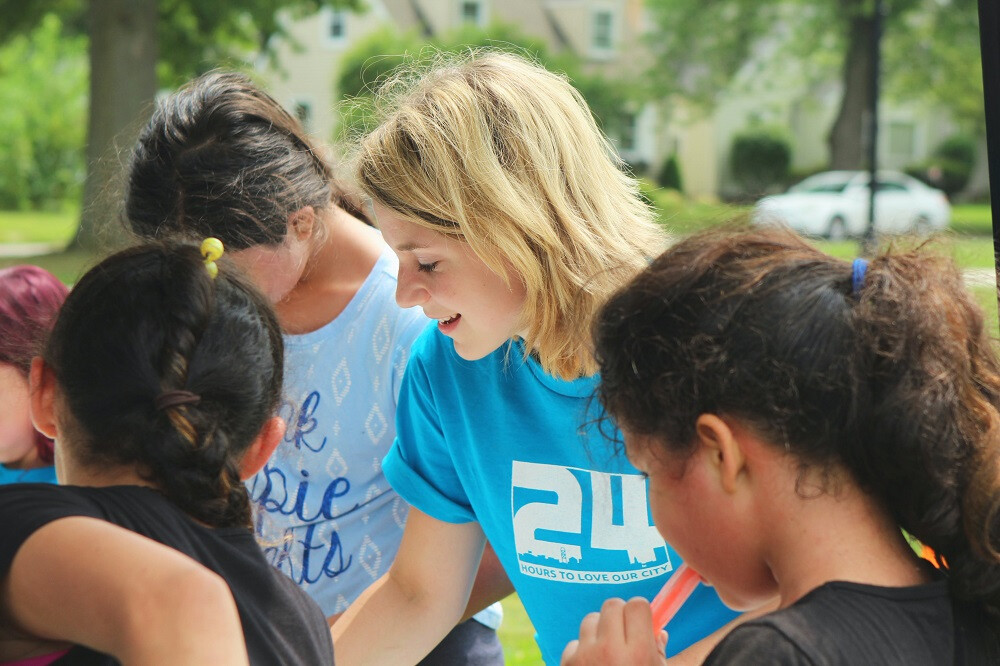 "Sitting down, Jesus called the Twelve and said, 'Anyone who wants to be first must be the very last, and the servant of all.' "
Mark 9:35

I practically stumbled into the side-door of the church, running a few minutes late, with my little ducklings trailing behind me. This mama duck's feathers felt very "ruffled" that day. I was just rejoicing that I had made it to church! It had been a trying week, a busy one filled with too much activity and too little energy. Oh, how desperate I felt to quiet my heart and to hear a sermon that would feed my weary soul. After I dropped each of my kids off at their classrooms and the nursery, I waved at the greeters still faithfully standing in their spots in the foyer, readily offering smiles and help to anyone who needed them. I felt energy and comfort begin to fill me up as I finally joined the congregation in singing the first song of the day. I was grateful for the individuals, men and women alike, who were willing to miss the worship service so that I could focus on God's voice for a short window of time. They were teaching rambunctious children a Bible lesson that they had carefully prepared beforehand and were loving on my kiddos so that I could enjoy fellowship and worship for an hour.
The worship leader and praise team at the front of the auditorium were smiling and singing from their hearts, the keyboard player and guitarists being kept in perfect time by the tap-tap-tap of the drummer. They were all exuding such a joyful noise as they looked out over the crowd. The female vocalist, a good friend of mine, caught my eye and winked at me. I knew that she had been here rehearsing this past Thursday despite having a sprained wrist, not to mention her early arrival before sunrise this morning. I began to thank God for all of those on stage and those manning the audio-visual and sound booth, who had given of themselves to show Christ's love in very practical and necessary ways. And I knew by looking at their faces that they were blessed through their giving.
The pastor's sermon and benediction passed all too quickly, yet the whole service from the music to the last "Amen" was the refreshment that I had needed. I turned to go pick up my kids, feeling nourished and filled. Passing the kitchen on the way to the classrooms, I caught brisk movement out of the corner of my eye. Ah yes, it's that special Sunday of the month! Some faithful hard-working people were preparing and packing meals for the local Salvation Army. I overheard laughter and the clanking of utensils and dishes being washed. I glanced over to see dozens of meals being stacked and packed to be delivered shortly to feed a large group of hungry and thankful people in the community. What? Even some kids and teens were helping. How awesome!
That day my heart was filled to overflowing! Partly because I got to sing praises to Jesus and I got to hear an uplifting and challenging sermon. But also, because I saw very clearly what real servants look like. That Sunday was many years ago and yet nothing has really changed. Servanthood is still what Christ asks from His followers. Real servants make decisions to give of themselves (their time, energy, talents, and money) even when it's inconvenient or when they're tired. They studiously plan lessons to teach children that aren't their own because they love Jesus and they nurture His children. They get out on a cold evening after working hard all day to practice worship songs so that they can minister to people, some of which they don't even know. Or they miss supper to get into the sound booth because singers and praise bands need microphones and lyrics and lighting. Other servants use their cooking skills to feed others in need. Even if they can't necessarily cook, they show up. They serve in whatever way they can because they love Jesus and they love showing compassion toward those in need. Other people with servant hearts (known as Greeters) get on the road extra early to be the face that worshippers see as soon as they enter the doors on Sunday. They stand on their tired feet and get out of their comfort zone so that they can make their church a welcoming, friendly environment, greeting strangers and friends alike. They want to shine Jesus on every person who enters.
May I challenge you, dear reader, to ask yourself some questions? Are you able to dig for answers that are honest? Maybe you could write down the questions, then take a week or two to answer them as you pray, reflect, and listen to God's voice.
1. What gifts do I have that can be a help and blessing to others?
2. Have I prayed to see how God wants to use me?
3. What needs do I see in the church body (and my community) that I could help with?
4. What would I need to do to make that happen?
5. Can I trust that God will help me to serve well in spite of my doubts and inadequacies?
6. When will I take the first step to serve in my church?
After taking some time to explore the possibilities, would you be willing to step out on a limb that might feel shaky and volunteer to serve? Would you like to work with children? Do you love to sing or play an instrument? Are you the techie-type willing to be trained and serve on the sound and audio-visual team? Do you have a heart for women's ministry? Maybe cooking, wrapping, and packing food is where God is calling you. Whether it is one of the above-mentioned opportunities or something else that you could do, please consider contacting the church office or talk to one of our staff members. We would be thrilled to help you figure out where to serve. You never know what a blessing you can be until you answer the call!
"Whatever you do, work heartily, as for the Lord and not for men, knowing that from the Lord you will receive the inheritance as your reward. You are serving the Lord Christ." Colossians 3:22-24